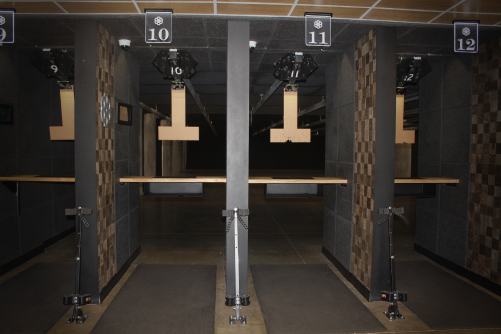 Bullet & Barrel is dedicated to providing professional, friendly firearms training, a state of the art indoor shooting range, and a welcoming shopping experience. Range fee's are $22 per hour for the primary guest and an additional $15 for another person on the same lane. The 100-yard rifle tubes are $22 for a half-hour or $32 for a full hour. Please ensure that your centerfire rifle has a minimum of a 6 power scope as iron sight and red dots are discouraged for the rifle tube. At this time rimfire rifles are only able to be shot on the 15 yard and 25 yard range.
Locally owned and operated by Melanie Hammer Murray, Bullet & Barrel's expert staff is shooting for something different as they offer North Alabama a clean, safe place to practice shooting sports with concierge customer service, curated firearms and sporting accessories, and lifestyle clothing departments. Our "Guntry Club" atmosphere of "serious fun" is welcoming to new shooters and experts alike. Stop by and visit to learn more.
Range Limitations and Safety Requirements

All individuals engaged in live fire activities must know and follow Bullet and Barrels rules as outlined below:
1. All Federal, State and Local firearms laws must be obeyed.
2. Participants must check with Range Counter before and after shooting.
3. Range Safety Officers may inspect all firearms and ammunition.
4. Commands issued by range staff must be obeyed.
5. Follow the Basic Rules of Firearm Safety at all times:
Treat all guns as if they are loaded.

Always point guns in a safe direction.

Keep your finger off the trigger until you are ready to shoot.
6. A short safety video is required for all first-time users.
7. Eye and ear protection is required.
8. Firearms must be cleared with breech open, and placed in a carrier, when removed from the firing
line. In addition, firearms must be unloaded until ready to use.
9. Rental firearms require B&B ammunition. You may bring your own ammo (we will inspect) to use in personal firearms. Reloads require permission from RSO.
10. Upon the command "CEASE FIRE": stop all shooting immediately. Place firearm on the bench and
back away from the firing line. Don't approach the firing line or pick up the firearm until the "ALL CLEAR"
the signal is given.
11. For any firearm or ammunition problem, place the firearm on the bench with muzzle pointed down
range. To signal the RSO for assistance, raise your hand.
12. Steel core, tracers, explosive, frangible or armor piercing ammunition is prohibited. Shotguns are permitted with approved ammunition only. Ammunition over 30-06 requires permission.
13. No shooting from the hip or from holsters. Long guns must have a shoulder stock.
14. The use of drugs or alcohol prior to visiting the range is prohibited.
15. Tobacco use, eating, chewing gum, and drinking in the range is prohibited.
16. Wanton or careless destruction of the range or systems, will result in a stiff fine and possible expulsion.
17. Any violation of safety rules or RSO instructions may result in immediate removal from the range.
18. Minors between the ages of 12 and 18, who have attended an approved training program are welcome with a parent or guardian. State law forbids minors between 18-21 from renting and purchasing certain firearms. Individuals over 18, but not yet 21, may use their own firearms within the confines of the law.


Rent 1 gun for $10 or as many as you would like for $20. You must purchase our ammunition to use in rental guns. Full Auto Rentals are $75 and include 50 rounds.